German chemical trade decline has a big impact on its economy and questions the future progress in the industry. Germany's third-largest industry is having a downturn after stable growth in revenues and earnings over the last decade.
The following image is regarding the 10 years period (from 2007 to 2017) of EU imports and exports of chemicals. Within this time period, the average annual growth production of chemicals in the EU was 0.7 %. There was exceptional progress seen in the imports from the year 2007 to 2008, where the value doubled. For the exports, the medical and pharmaceutical products did remarkably good with a share of 46% and an import share of 41%.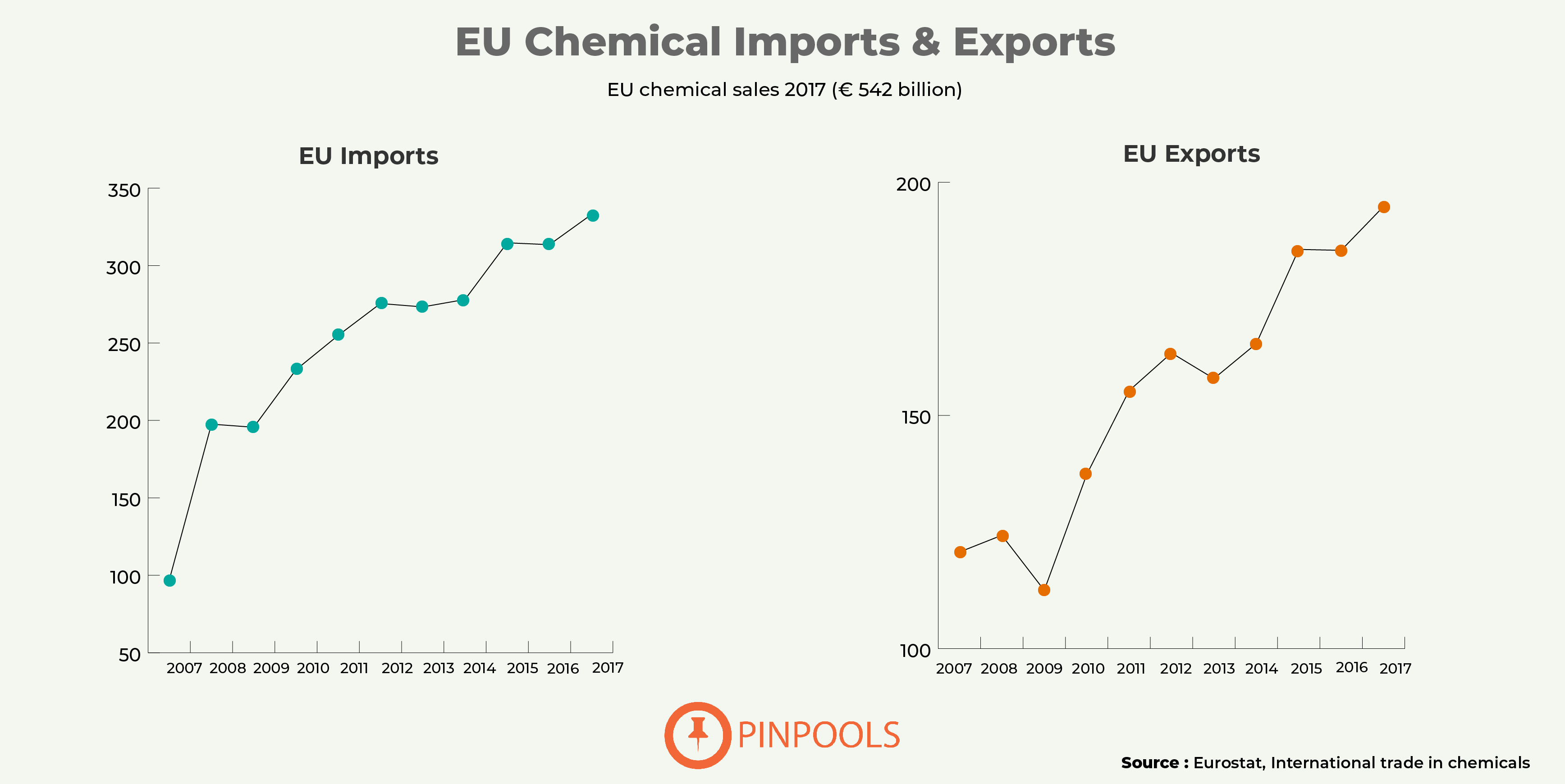 The nation's third-biggest industry is experiencing a shortcoming of key consumer ventures and global vulnerabilities. In general, industrial production in Europe's largest economy fell 1.9% in April, which was a drastic monthly fall in nearly four years, according to Germany's statistics office. It was much worse than the 0.4% decline predicted by economists, as it was said in the Guardian.
Major reasons for the setbacks to the German chemical industry:
1. Britain's planned exit from the European Union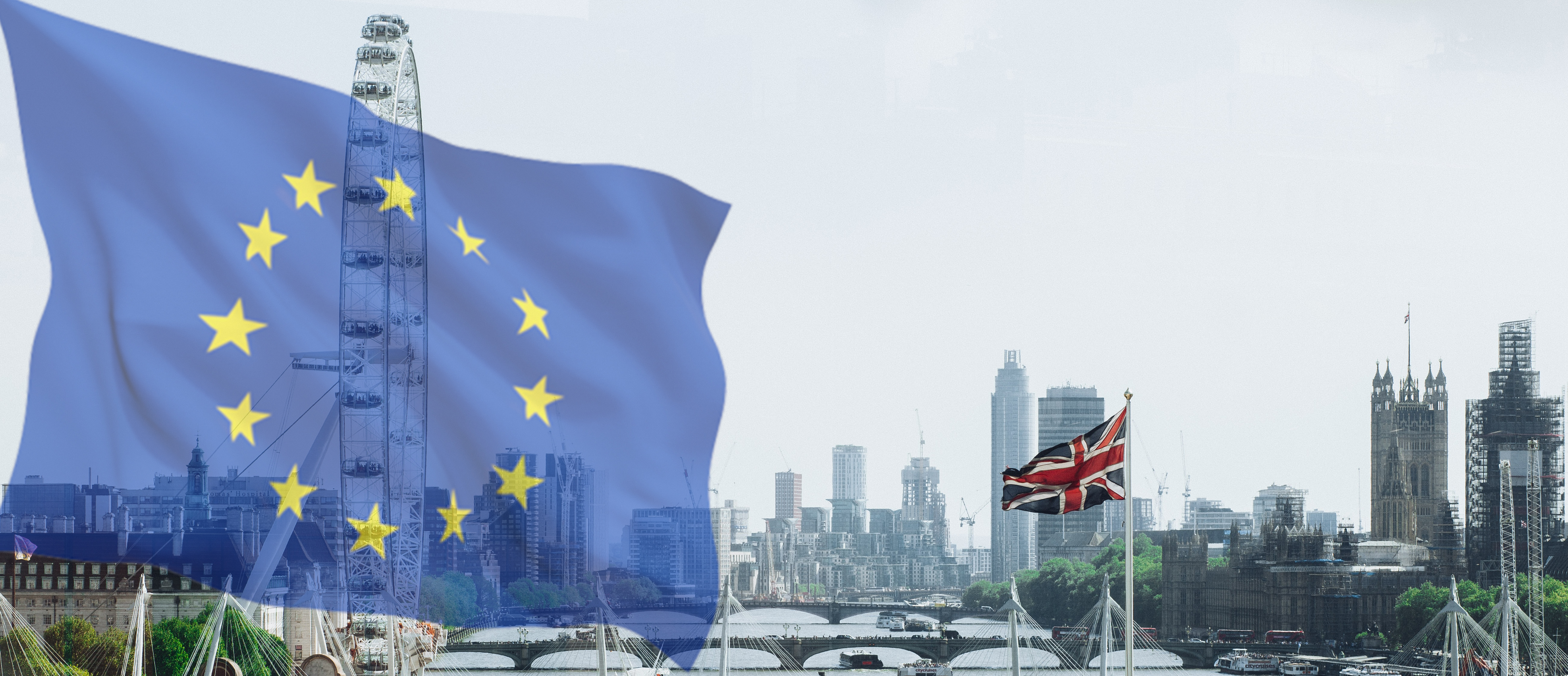 Photo Credit - Dylan Nolte
German exports and industrial output fell strongly in April this year, activating new fears that exchange pressures and proceeded Brexit's instability are weighing on the worldwide growth. Germany's chemical segments have the main role in the embracing of traditional industry products or the sustainable development of new technologies. Germany offers investors fertile and stable ground, combined with a good logistic plan for their product development and market integration within Europe's largest economy. Figures that were recently released by the VCI Chemical Industry Association confirmed what the corporate earnings season indicated that volumes are being narrowed. The German chemical and pharmaceutical industry are expecting a decline in the following period. The VCI therefore drastically cut its 2019 forecast by 5% and is now expecting a decline in revenues of 2.5 percent to 198.5 billion euros.
2. The trade conflict between the United States and China & non-eurozone economies

Photo Credit - Tom Fisk
The US-China conflict and the Non-EU economies are heavily affecting the EU's economy, which in turn has a direct impact on the German Chemical industry. Chemicals are a significant part of the US-China trade. The American Chemistry Council (ACC), which represents the US chemical industry, has estimated over 1,000 US chemicals and plastics, worth nearly $11 billion per year, are affected by a decline in revenues of 2.5 percent to 198.5 billion euros. On the US side, buyers must pay more for over 1,500 Chinese chemicals and plastics worth more than $15 billion.
Chinese companies – active buyers in the sector for the past few years – are increasingly looking to Europe to offset the trade disputes with the US. Overall, since the beginning of 2018 through mid-October, there were over 60 Chinese outbound M&A deals in Western Europe, worth $45 billion, which was considerably high as compared to $35.93 billion in 2017, according to figures from Mergermarket. Chemicals and industrials have topped the chart with 23 transactions compared to 10 in business services and energy, mining & utilities. EU's non-eurozone economies had an 8.7% year-on-year fall in exports in April – the largest of which is the UK. Exports within the UK fell by €1.6bn in April compared to the previous year, to €5.6bn – a 22% year-on-year fall.
3.Lowered demand levels of chemicals

Photo Credit - Chokniti Khongchum
The demand levels that were lowered down affected industrial raw materials decline such as fine & specialty chemicals (4%) along with polymers 7%. For consumer products, such as detergents and personal care products, cosmetics and soaps saw a decline of 4.5%. The only exception was inorganic raw materials, which increased by 15%. Petrochemical production was able to overcome the low phase and stabilize at the same level as the previous year.
"There are increasing signs of a slowdown in the German and European economy," VCI President Hans Van Bylen said. He also mentions "Demand from clients is getting lower." Van Bylen is also the CEO of consumer products Henkel. However, CEO's don't like to speculate publicly whether this is temporary or the start of something serious."Apart from the pharmaceuticals business, chemical production is supposed to stagnate this year, following with 3.5% production and a 2.5% revenue decrease as producer costs are expected to rise by 1%" according to a VCI report. "The German economy has slowed down during the second quarter of 2019, as the latest numbers are showing", according to Andrew Kenningham, the chief Europe Economist at Capital Economics.
Therefore, the VCI updates its statements made in 2018: The industry association expects a 3% decline in sales and a 4% decline in production of for the current year. As a result of these uncertainties, commodity prices are rising: crude oil will rise by about 16% in the first half of 2019 to about $ 66 per barrel. Naphtha- the most important precursor of petrochemicals and plastics have also risen in price in the first six months of 2019 to almost 470 euros per ton (an increase of 12%). This leads to rising producer prices (+1.5%), which can compensate for a small part of the declining sales. Production in the chemical and pharmaceutical industries, which are vital contributors to Germany's gross domestic product. They have growth by 0.5% in the first quarter as producer prices decreased by 0.3% and sector revenues fell 1.1%, VCI said. Weaker request for chemicals in 2019 is making it more difficult for companies to apply higher prices they had for numerous quarters to boost their bottom lines. As a result, profit margins confront a crush. Particularly since the cost of oil, a vital base product for chemicals, is anticipated to keep rising after a 45% bounce within the third quarter in 2018.
While it's hard to imagine there are any chemical company purchases still to be made, deals will flourish this year, according to Ernst & Young (EY). The consulting firm says the need to expand earnings and repel competition will cause more consolidation in petrochemicals, paints and coatings, polymers, and specialty chemicals.
4.German car sector has a decline in demand

Photo Credit - Didgeman
German industries which are considered to be the powerhouse of the European economy has suffered a lot of complications in the recent times as trade tensions between the US and China have put the brakes on global trade growth. The German car sector, a major exporter, has also been hit by a decline in demand for vehicles in the EU and China. Major players including Daimler and BMW are investing heavily to overhaul their combustion engines and meet Europe's more-stringent emissions standard WLTP." The industry is still facing difficulties with both local and external factors, including the weakness of global trade, a slowdown in household consumption growth and regulatory confusion in the auto sector. We don't expect a sustained improvement any time soon." Kenningham said in the Guardian. "This is not the best start to the second quarter for the German industry, as global trade tensions and temporary problems in the automotive sector and chemical industry have left their marks," said Carsten Brzeski, the chief economist in Germany for the Dutch bank ING.
5.Record lower water levels in the Rhine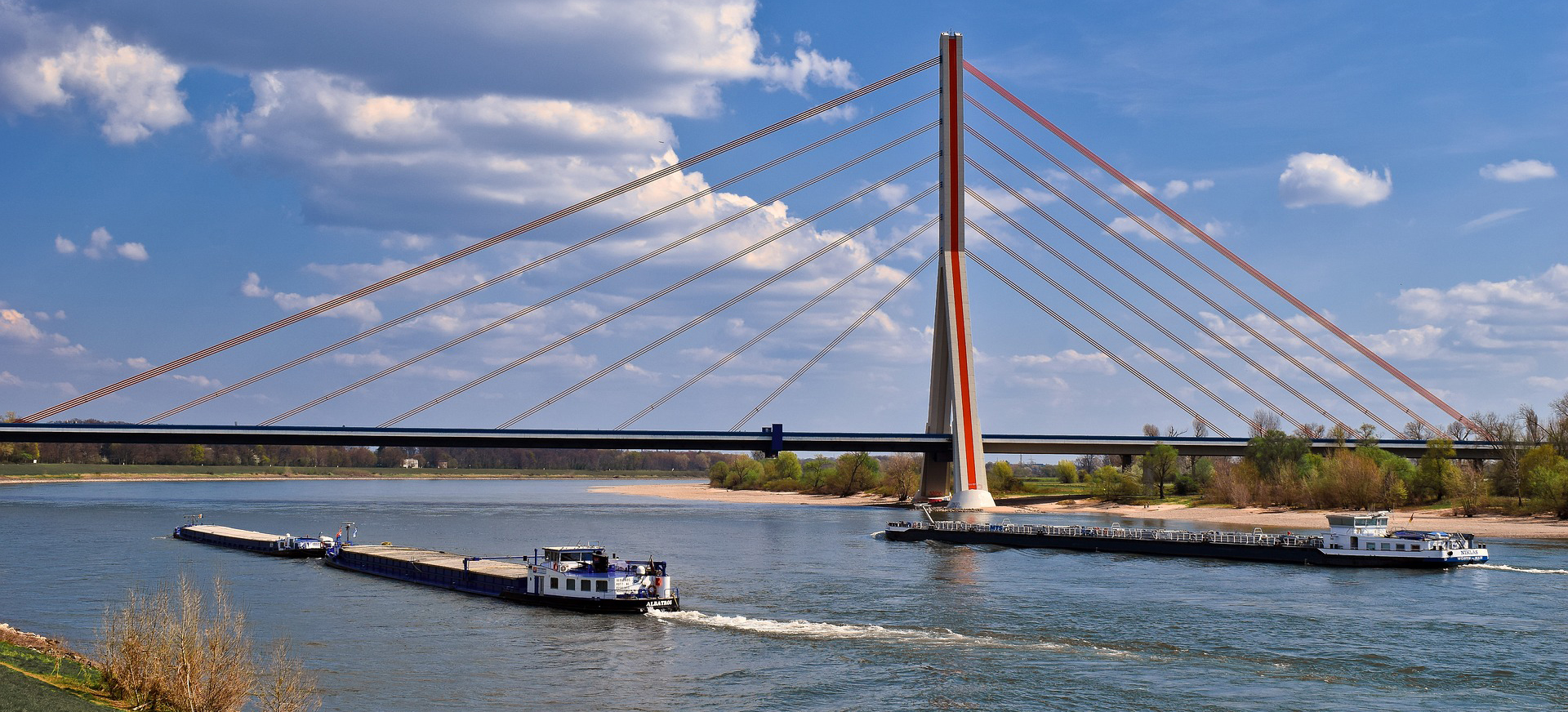 Photo Credit - Michael Gaida
Germany's ongoing drought that created record-lower water levels in the Rhine, a vital transport channel for chemical groups. As a result, shipping volumes were seriously reduced. "The situation regarding the Rhine is very critical," said Christian Kullmann, head of the specialty chemical group Evonik. Firms are forced to switch to rail transport which is costing time and money.
Deals will most likely be restricted to little and medium-sized purchases in specialty chemical divisions. This would permit firms to benefit from their innovative strengths and earn good profit with moderately little capital costs. Firms are too likely to deprive not so useful activities for their main functioning. Recently, the European Central Bank said it would keep its main interest rate at 0%, at least through the first half of 2020, rather than looking to raise the cost of borrowing around the end of this year. They hope to improve and stabilize the whole situation.
6. The major role in the fight against climate change

Photo Credit - Franck V.
Van Bylen highlights the sector's role in the fight against climate change: "Our industry makes a major contribution to the success of the energy transition and more climate protection with innovative products and processes," explains the VCI president. He also opposes any extension of EU emissions trading or the introduction of a carbon tax. If there are no major setbacks, production in the German chemical and pharmaceutical industry which is anticipated to increase 1.5% in 2019, says Hans Van Bylen, president of VCI, Germany's chemical industry association. "Chemical prices should rise by 1%. In this setting, the industry's sales are likely to improve by 2.5%," he says. "We think that modest growth in chemical business can be achieved in 2019."
This "flight into higher-value segments," as Wolfgang Falter (Deloitte Strategy Consultant) calls it, is a trend that will further separate European chemicals firms from mass producers in Asia and the Middle East. The US is the only region that is still being stable in the slowing growth from the beginning of this year. Also, a very important factor that is contributing to their economy is the great demand due to consumer spending.
Added to this is the unexpected dynamism that is pointing out that decarbonization and the round economy have become and the way that it doesn't seem to be suitable for taking care of these issues. In addition, the pharmaceutical part, which developed unequivocally in 2018, might not able again to keep the pace: despite a great extent stable interest, deals and generation decay year-on-year, as indicated by Hans Van Bylen, leader of the German Chemical Industry Association VCI and the CEO of Henkel.
Asian suppliers and buyers are starting collaborations with European companies from the chemical industry, looking for positive progress in the near future. It is expected that Chinese companies will continue to look for opportunities in these traditional chemical segments, but they are also interested in buying organizations involved in pollution, water and waste treatment solutions as well as green and sustainable chemicals and plastics. With all the points mentioned above, it will be interesting to see how the industry will proceed in Germany in the upcoming future.